Unit Information
Edit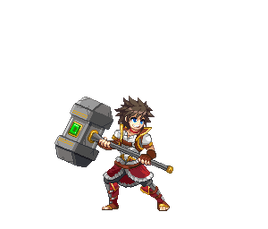 Name
Karl
Rarity

★

★★

Cost
8
Attribute
Wind
Affiliation
Fang Mercenaries
Weapon Type
Warhammer
Attack Type
Melee
How to obtain
Normal Summon/Rare Summon
Attack Information
Edit
Deathblow
Descending Storm
A powerful hammer unleashes multiple tornados, pulling the enemy into a vortex.
Secret Technique
Storm Strike
Strikes the earth with a massive hammer, summoning a furious tornado.
Leader Skill
Ethereal Force
Wind units: +10 ATK
Passive Skill
-
-
-
Passive Skill 2
-
-
-
Status Resistance
Edit
Unit Status
Edit
| | | | |
| --- | --- | --- | --- |
| Initial Max Level | 30 | Additional HP | 200 |
| Initial HP | 1530 | Maximum HP | 2890 |
| Initial Attack | 480 | Maximum Attack | 1500 |
| Initial Defense | 480 | Maximum Defense | 1530 |
| Additional Attack | 100 | Additional Defense | 100 |
"Smash first, think later!"
Karl is the kind to follow his gut, but sometimes he overdoes it a bit. He was introduced to the Fang Mercenaries by a friend worried about his excessive energy.
His reckless attitude hasn't mellowed with age, and often gets him into trouble. He's not cut out for covert missions, and greatly prefers demon-hunting.
He possesses unwavering self confidence and belief in his abilities. Indeed, seeing his fearless, savage determination is not a sight one soon forgets...
Ad blocker interference detected!
Wikia is a free-to-use site that makes money from advertising. We have a modified experience for viewers using ad blockers

Wikia is not accessible if you've made further modifications. Remove the custom ad blocker rule(s) and the page will load as expected.